With the coronavirus pandemic restricting us to our homes, the global financial institutions are still functioning since it is seriously not wise to have the global economy come to a standstill. But it is changing how we work and interact. Their work may seem rather monotonous to most of us but who can undermine the magic they can do with numbers?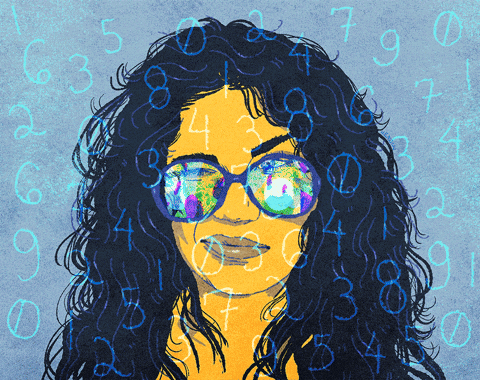 So, we thought to come up with a cool repository of isolation material for the gurus who support our businesses during different stages of financial cycle.
#1 – Amp up your social media presence
Internet usage statistics have gone up 50% in some parts of the world due to social distancing and working from home. It is a great opportunity to expand by improving your social media presence.
Make accountancy look cooler
Did you know that legendary Rockstar Mick Jagger, pop diva Janet Jackson, and comedian Eddie Izzard were trained in accountancy? No? Well, now you know and why not share it across your social media platforms?
Note: Accountants in the UK earn more than 13.1 billion in fees annually. (A cool statistic to share with your audience. May be, you will attract bright minds to study accountancy).
However, do keep in mind that graphical posts are more attractive and generate more traction than the ones loaded with words only. Use Canva or related platform to design your own custom post to stand out as a social media pro.
[BONUS] Want to have your website's visibility improved by learning some magic keywords to rank for in your industry. We have curated a special list of keywords of your industry; and we are sharing them with our gurus. Dig deeper in the article below and we have another free giveaway for you. (wink) (wink)
Sharing (news) is caring
We all are disturbed about global financial meltdown that is ongoing and the one that we anticipate. Being an accountancy guru, you can share good or even bad news in a way that it helps your audience and clients prepare for the worst. Changes in tax laws, new regulations amid coronavirus pandemic, and how global financial institutions is planning to tackle are some of the thing that you can position yourself as an authority. Develop a niche and be our best news source even everything is back to normalcy.
Accountancy promoter
Well, the idea here is to be such a person to accountancy what Bill Nye or Neil DeGrasse Tyson are to science. Ever imagined how a lot of people have developed infatuation with everything related to science, universe, and all their mysteries? (Yes, we too are guilty of that). It is because those guys simplified complex concepts into something awe-inspiring and thought provoking. You can do the same for accountancy.
Share tips on monitoring daily expenses, advise on tax queries, or even hold AMA on twitter or reddit to engage those who are never interested in accountancy.
Did you know?  Old Mick was a trained accountant?
#2 – Grab a book
We have carefully curated a 5 must read books for accountancy gurus. Use this time to sharpen up your skills and intellect. And what better way to sit on your favourite chair or sofa, sip some coffee or tea, and read something that excites your mind.
Warren Buffett Accounting Book: Reading Financial Statements for Value Investing Buffett Book Edition by Stig Brodersen and Preston Pysh.
A Brief History of Economic Genius by Paul Strathern
The Tax and Legal Playbook: Game-Changing Solutions to Your Small Business Questions by Mark J. Kohler
Narrative and Numbers: The Value of Stories in Business by Aswath Damodaran
Financial Shenanigans: How to Detect Accounting Gimmicks & Fraud in Financial Reports by Howard Schilit and Jeremy Perler
#3 – Necessary self-reflection
We understand that these times are really challenging for all us. They are not only affecting our businesses or professions but all the essentials which make us humans like social interaction, greeting, hanging out…etc. Our minds face a great dilemma in adjusting to this new surreal reality wherein we cannot even meet with fellow humans. But it is all good if we utilize this time for some necessary self-reflection which can not only help us become a better professional but also a better human being.
On the professional front, look inward to realize where to improve? For starters, is your website tweaked and refined enough to meet all digital standards? Let us help you out by running a free audit of your website with our magical tool.
Every crisis is an opportunity in disguise. Let us reflect and reinvent ourselves for a better future tomorrow.
Lastly
Why not help us out a little in your free time? Schedule a call with our CEO as he is so bored that once he told us how many times Justin Bieber says Baby in his song. (Not judging his music taste though; quarantine hits everyone hard) :-p
Top Key words to aim for: Accounting and bookkeepers edition.